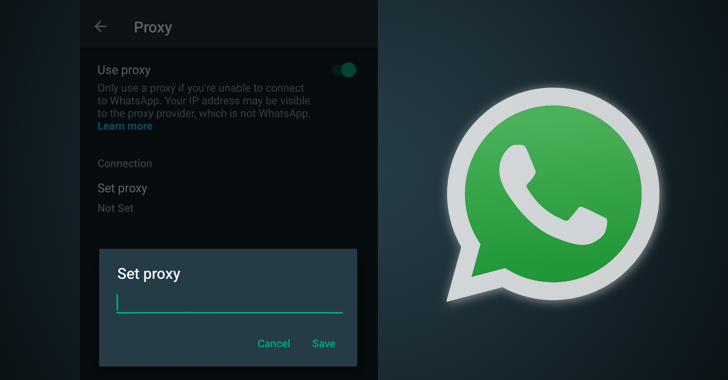 Popular instant messaging service WhatsApp has launched support for proxy servers in the latest version of its Android and iOS apps, letting users circumvent government-imposed censorship and internet shutdowns.
"Choosing a proxy enables you to connect to WhatsApp through servers set up by volunteers and organizations around the world dedicated to helping people communicate freely," the Meta-owned company said.
Proxies act as an intermediary between end users and the service provider by routing requests originating from a client to the server and forwarding the response back to the device.
Users can access the option by navigating to Settings > Storage and Data > Proxy > Use Proxy and entering a trusted proxy server address.
WhatsApp, which is used by more than two billion users across the world, has also made available a reference implementation that can be used to set up a proxy server to help others connect to the service.
The company emphasized that connecting through a proxy server still guarantees end-to-end encryption (E2EE) protections, and that the message contents will not be accessible to the servers, WhatsApp, or Meta.
"Use of a third-party proxy will share your IP address with the proxy provider," WhatsApp cautions in a Help Center page. "Third-party proxies aren't provided by WhatsApp."

The announcement comes months after Iran curbed access to Instagram and WhatsApp in the wake of widespread protests after 22-year-old Mahsa Amini died in police custody.
In September 2022, encrypted messaging tool Signal, which is also blocked in Iran, urged its users to set up proxy servers to help Iranians bypass restrictions and communicate via the platform.